Dunes West, Mount Pleasant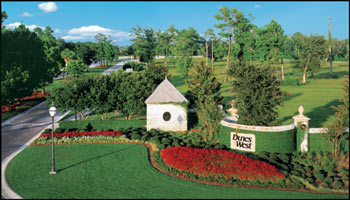 An unparalleled blend of days gone by and present day amenities, Dunes West offers home buyers the opportunity to live in residential neighborhoods built in true harmony with the Low Country's natural surroundings and historic past.
Located in the town of Mount Pleasant in Charleston County, Dunes West fronts the Wando River, Wagner Creek and Toomer Creek and features views of tidal creeks, the golf course, lagoons, deep water, marsh or woods. The property has almost 12 miles of waterfront.
A masterfully planned community, Dunes West features a wide variety of amenities coupled with an incomparable lifestyle to give its residents the finest in Low Country living. Just 15 minutes from the beach at the Isle of Palms, 20 minutes from the Charleston historic district and 10 minutes from I-526, homeowners are never too far from the action but light years away from the hustle and bustle of fast-paced life after they drive through the gates of Dunes West.
John Wieland purchased Dunes West in late 2002, making a special place to live even better. Now, with the introduction of Harborside, the newest phase of Dunes West, he plans a spectacular new array of recreational amenities, deep-water home sites, a boat launch and storage, acres of lush new coastal neighborhoods and a wide variety of new home styles. For those looking for the perfect home, just name your preference. A stylish town home? A one-of-a-kind estate home on the Wando River with deep-water
dock? Or perhaps the charm of gracious traditional homes shaded by century-old trees? Whatever your dream home, it is available in the newest neighborhoods of Harborside.
"All homes in Dunes West are given careful architectural review in order to continue Dunes West's tradition of gracious and handsome home designs that give our neighborhoods that distinctive look," says Dunes West General Manager Kevin Popson. "There is a home in Dunes West to match every lifestyle."
Residents of Dunes West are treated to the very best in amenities, including the Dunes West Golf Club, a championship 18-hole course designed by Arthur Hill, complete with pro shop, driving range and Southern style clubhouse located on the former Lexington Plantation site. The clubhouse offers dining and member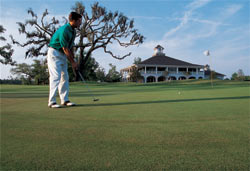 events and is also available for private gatherings.
Don't forget the private Dunes West Athletic Club, owned and operated by John Wieland Homes and Neighborhoods, Inc. The club offers a leisure and lap pool, eight asphalt and two clay tennis courts, miles of sidewalks for walking and a full fitness program. The Tennis Center, managed by Tennis Pro Jack Miller, offers private lessons, group clinics, league play and children's programs.
Club membership also includes fitness programs by Lifequest, which offers yoga, aerobics, water aerobics and dance, with more classes planned for the future. Meg Keally, Dunes West Athletic Club activities director, makes sure the fun never stops with planned events such as pizza night, summer camps, junior tennis functions and many more fun-filled activities.
Children attend Mount Pleasant's newest school facilities, Pinckney Elementary and Cario Middle School, which are within biking or walking distance. The new Wando High School will open next year. Several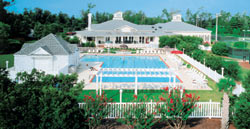 private schools are also in the area. The airport and great shopping at Town Centre are nearby and major hospitals and outpatient health services are only minutes away.
John Wieland Homes and Neighborhoods is nationally acclaimed for excellence in home building and is the leading developer of upscale neighborhoods across the Southeast. A dedication to delivering the best for over three decades has earned John Wieland Homes and Neighborhoods over 400 awards, including National Builder of the Year, Developer of the Decade, National Housing Quality Award Winner and most recently Charleston's Best Builder. The company has developed over 300 neighborhoods and has been the builder of choice for more than 20,000 home buyers.