SOL Restaurant, Mount Pleasant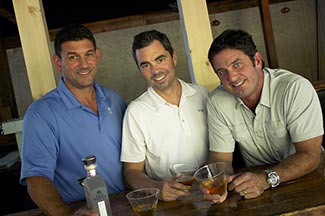 I stepped into what used to be the Charleston Crab House on Highway 17 North just in time to see an awesome transformation taking place. The building was in the midst of becoming SOL Southwest Kitchen, a new restaurant in Mount Pleasant that promises cozy, upscale atmosphere, great food created from scratch and the kind of customer service you get only from an independent establishment.
SOL was dreamed up by three culinary experts in the Lowcountry: David Clark, Joe Sciortino and Andy Palmer. They've known each other for 19 years and garnished most of their experience through working for the Wild Wing restaurant group – moving from bartenders and servers all the way up to directors of purchasing, franchising and operations.
"We grew up with the company," remarked Palmer.
Clark, Palmer and Sciortino opened a Wild Wing of their own just four years ago in the Oakland shopping center. On the heels of the restaurant's success, they decided that a restaurant like SOL would be welcomed in north Mount Pleasant.
"We wanted some place that we – and our neighbors – could get drinks and appetizers without driving too far," said Clark. "And, we wanted something with local flair."
The local flair that Clark spoke of is apparent in the restaurant's appearance. Clark and team put effort into creating a rustic but upscale atmosphere. The wood on the cloud ceiling, for example, is from the first train station in Brighton, TN. The face of the bar is made of antique heart pine wood from our own cigar factory in downtown Charleston. Even the bar top is antique maple from a cotton mill in North Carolina.
But enough about how beautiful SOL is, right? Let's get to the important stuff – food and drinks. Clark was making me downright hungry just talking about the menu of appetizers, which will include things like freshly made Pork Carnitas Napoleon, Sedona Scallops and plenty of "sharable items" for friends to enjoy. Plus, one featured item per month will be an opportunity for guests to feel good about their order when its proceeds go to a local charity.
"We want guests to understand that not everything on our menu at SOL will be spicy," explained Clark. "It's Southwestern cuisine, which means it will have flavor – but it won't all be spicy."
And, what better to pair with your flavorful meal than the perfect, refreshing cocktail? You won't find a shortage of tequila choices – nearly 60 different ones in all! – but what you will find are fresh ingredients, from juice to mix to fruit.
"A lot of people are intimidated by tequila," noted Clark. "We would like to change that. Some tequilas are as sippable as bourbon."
Not a tequila person? No sweat. SOL offers a generous list of craft beers as well as house infused liquors. I could already see a happy hour taking shape in my head.
As for the name SOL, the three owners agree they wanted a simple word that would make guests feel welcome.
"We want to make people happy," said Clark with a smile.
Visit SOL, located right off Highway 17 North at 1101 Stockade Lane. Reach them on the Web at solmtpleasant.com or by phone at (843) 388-4302. '